Riverside Community Garden Food Forest

The Food Forest is a big push for us for the 2017 season. What is it you might be asking.

The Food Forest in each garden is our gift to High River. When we were first planning the High River Community Gardens we wanted to include something for the whole community. Of course our gardeners benefit from having a plot but how can we also benefit the rest of the people in High River.
The Food Forest is our answer. Each garden has reserved part of the land to plant perennial fruit trees, shrubs and vines as well as perennial herbs and flowers.
Riverside Food Forest Design Plan

This is our base planting plan for the Riverside site. We have an excellent space with lots of sun.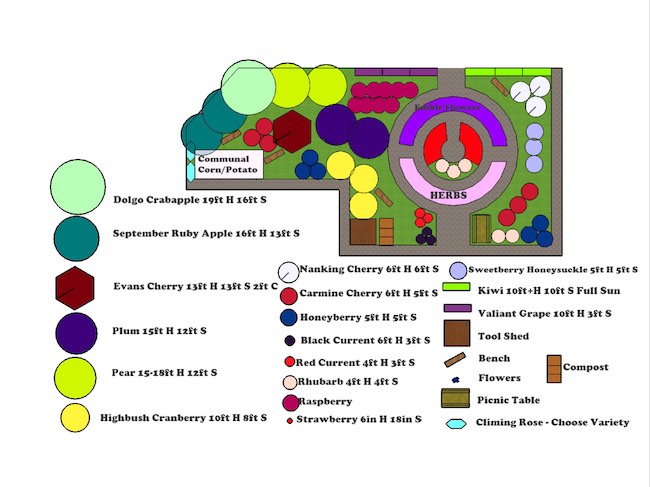 Getting Involved

Joan our Garden Manager, along with Peter and Lynda, are taking the lead for our food forest. They have already met for the preliminary planning.

While we do have a draft plan there is a good chance we'll be making some adjustments before the plan is finalized. We'll be looking closely at the site and doing research about varieties to plant and so on.
Many of you have signed up to help with this project and you will be contacted as we get further along. Right now we need help getting the site ready, especially moving some of the mulch off and assessing the soil.

Once the plan is finalized we'll be ordering the plants and staking out the planting on the ground.
We'll update this page as plans progress. We'll also include food forest updates in our newsletter so subscribe with the form and you'll get our free ezine.