McLaughlin Meadows Food Forest

What is a Food Forest?
When we were first planning the High River Community Gardens we wanted to include something for the whole community. Of course our gardeners benefit from having a plot but how can we also benefit the rest of the people in High River.
The Food Forest is our answer. Each garden has reserved part of the land to plant perennial fruit trees, shrubs and vines as well as perennial herbs and flowers.

The Plan at McLaughlin

This was our base plan for the food forest in the garden. We have a challenging site here as our overall garden is quite narrow. We have used the fence as a support for a good chunk of what we grow.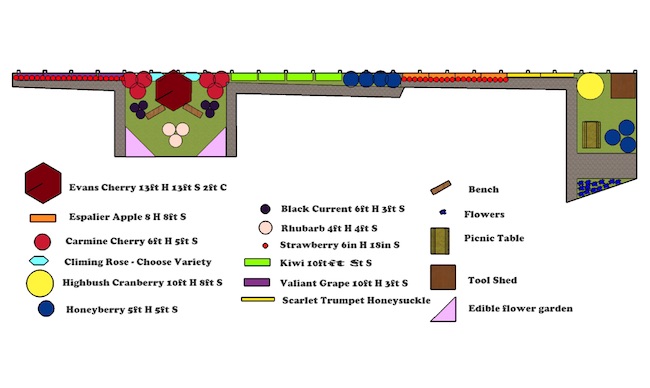 Our Initial Plan for the McLaughlin Meadows Food Forest
Getting Boots on the Ground

During the post-design food forest development, we started with a 'meeting of the clans' in the garden. It was so great to see so many people turn out.
As you can see, we had a solid draft plan for installing our forest. However, once we were on the ground and started searching for the design spec'd plants, some last minute tweaks were required.
Peter, Daniel, Volkmar and Leslie met to refine the plan and find sources for appropriate plant materials. Peter took the lead for organizing the actual physical work for amending soils, landscaping, and planting. Volkmar was our soils man, and Leslie wrangled the paper work.
The food forest is continually evolving as plants mature or succumb to Winter injury, or as new cultural methods get implemented and expanded on.  Make sure you keep your ears open, and take any opportunities to participate in (or propose) new projects throughout the year!
If you have questions, comments, suggestions, plants you want to donate or just want to get in touch with us, use this form to connect.

It was great to have so many people willing to help with planting day. We'll get the logistics in order, stake out the site, order and pick up or have the plants delivered, and check the longer range weather forecast to select a weekend for the actual planting day. Watch your email and this website for details.
Until then see you in the garden!
---
Return to the Community Garden Home Page