Riverside Community Garden
Our Riverside Community Garden is located off Riverside Drive and directly south of Notre Dame Collegiate.


Our Riverside Community Garden early in 2016
The Gardens
This garden is an ideal open location. We have 24 ground plots and 19 - soon to be 20 - raised bed allotments available here. Here is our site map.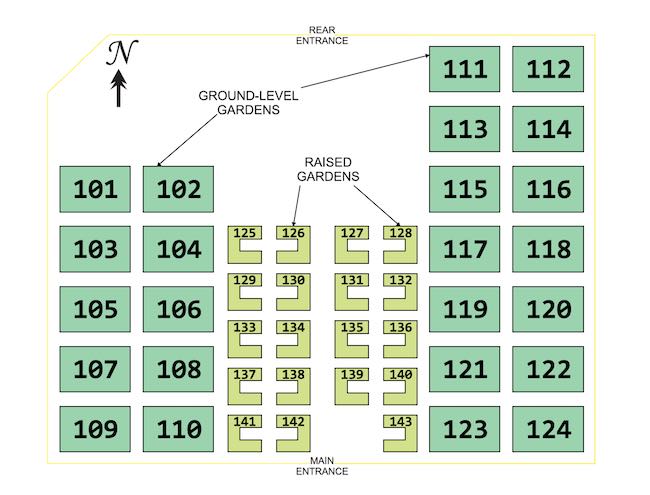 Our Riverside Site has 43 Plots. 24 Ground and 19 Raised.
Our First Season

Last Year being our build year was pretty nuts. We didn't get into the garden till June. Despite that great strides were made.

Our gardens went from completely bare the first of June...

To this ... over the course of our first season.
Lush Garden by the End of the First Season
Season 2!
Most of our gardeners are returning this year and of course can get into their gardens much earlier.

Also this year we will have a Garden Manager for the site. Joan has agreed to take this on. If you have a problem or a question you can contact Joan using this form. She will be using those guidelines we've all read and signed.
If you want Joan to phone you please give her your phone number.
The comment section looks small but you can write as much as you want and the whole message will get to her.

Joan isn't responsible for doing the work that might come up, just for organizing it. She'll be getting in touch with gardeners and assigning jobs.
The Food Forest
At our Riverside site we've reserved a large area for a food forest. We already have a preliminary plan for this project and some funds are already available to purchase those perennial fruit and nut trees, shrubs and vines as well as perennial herbs and edible flowers.
There will soon be a page devoted to this so watch for it.

The Wait List
Gardeners, provided they take care of their gardens have the option of renewing their garden plots from year to year. We have a long waiting list to get into the Riverside Garden at the moment.

We are changing our wait list policy for next year. The details of that wait list policy can be found here. If you are hoping to get into one or other of the gardens you might subscribe to our newsletter. This newsletter will be sent out in time to remind you when the wait list opens.

The newsletter will also be a way to keep lip to date with what's going on in the gardens. The sign up is to your right.

Return to the High River Community Gardens Home Page.