Riverside Community Garden
Riverside Community Garden is located off Riverside Drive and directly south of Notre Dame Collegiate.


Our Riverside Community Garden early in 2016

The Gardens
This garden is in a fully exposed location, subject to all the conditions that come with Chinook Zone gardening.  We are right beside the Highwood River, which also presents some interesting localized gardening conditions.
We have 24 ground plots, 19 raised beds, 1 common herb bed, 1 communal vegetable bed, a strawberry patch, communal pole bean patch, and food forest with fresh eating apples, sour cherry, haskup, raspberry, black and red currants, high bush cranberry, pears, and nankings, . Here is our site map.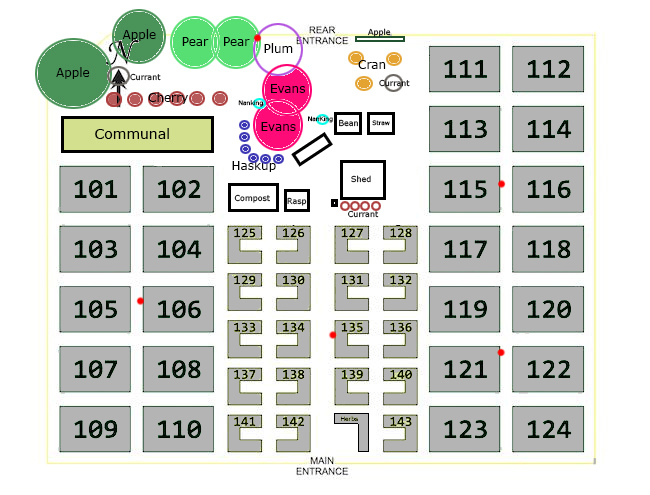 Our First Season - 2015

Establishing the Riverside garden in the open turf field was a huge effort.  So many volunteers from the initial garden subscriber list showed up to help.  Of note (and by no means a complete list of all volunteers): Gerry , Gary, and Robert who spent a good amount of time installing the perimeter fence and getting bed perimeters cut and assembled. 
The construction of the garden grounds faced a pretty big time crunch; in ground water system, turf scraping, perimeter fence construction, bed construction, filling beds with our soil/compost mixture; all after the Spring thaw and before we got too far into the growing season.  Oh, what a 'to do' list!  Folks were able to prepare their personal beds and plant for June 1.  What a success!  

Our gardens went from completely bare the first of June...

To this ... over the course of our first season.
Lush Garden by the End of the First Season
Season 2016
Most of our gardeners are returning this year and of course can get into their gardens much earlier.

Also this year we will have a Garden Manager for the site. Joan has agreed to take this on. If you have a problem or a question you can contact Joan using this form. She will be using those guidelines we've all read and signed.
If you want Joan to phone you please give her your phone number.
The comment section looks small but you can write as much as you want and the whole message will get to her.

The Food Forest - 2016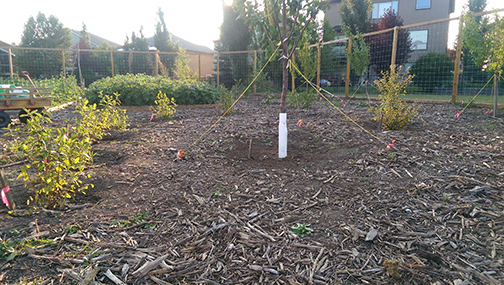 At our Riverside site we've reserved a large area for a food forest. We already have a preliminary plan for this project and some funds are already available to purchase those perennial fruit and nut trees, shrubs and vines as well as perennial herbs and edible flowers.
There will soon be a page devoted to this so watch for it.

Food Forest - 2020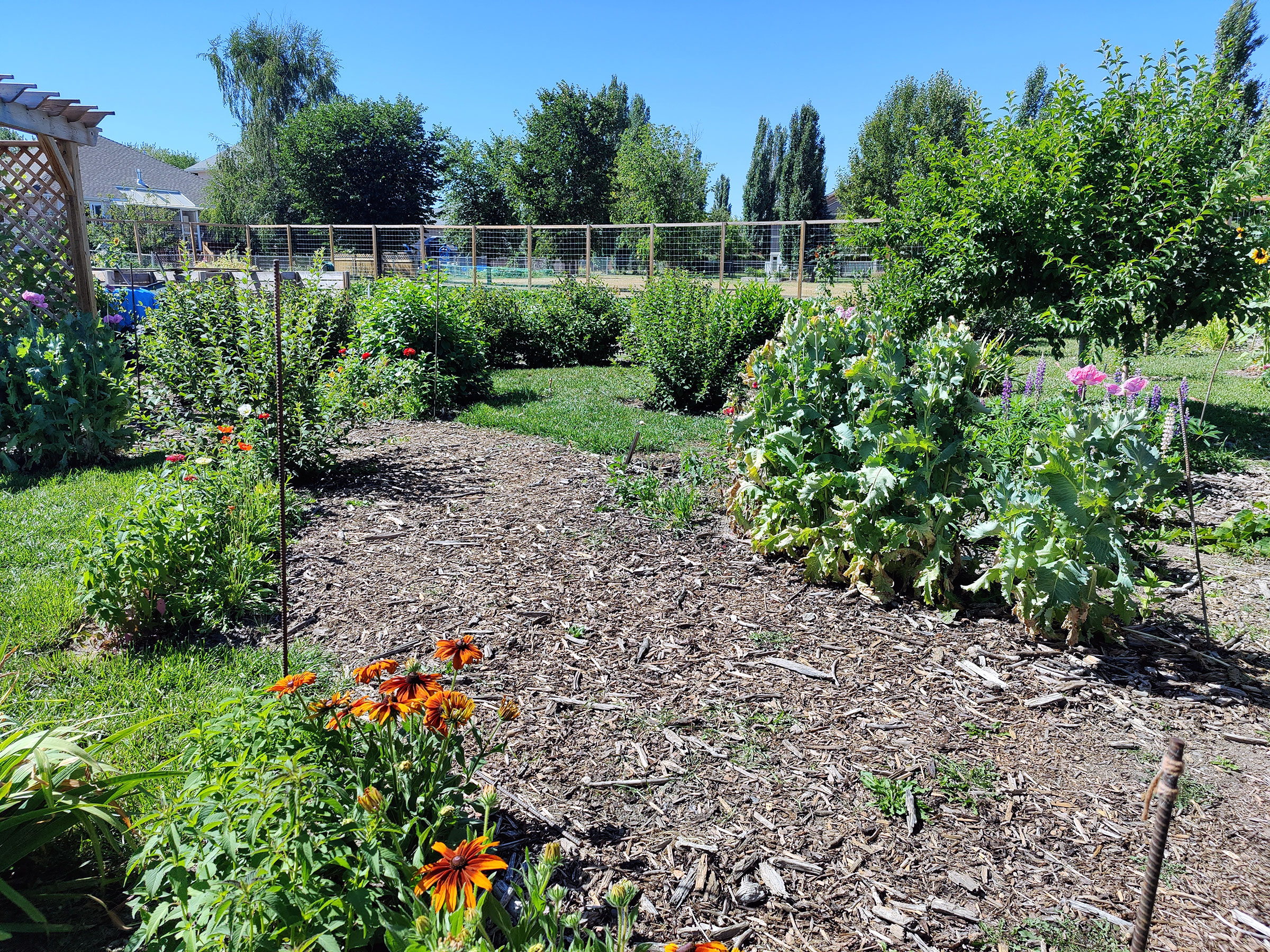 The food forest has undergone some incredible changes since it's original inception in 2016.  Most of the plants have gotten themselves established, but Winters are harsh here and a few of our specimens have had some major set backs.  The romantic cherries had some degree of winter kill, and the pears and Evans cherries winter killed to snow level.   The spring of 2020 teased us with warm spell which gave them a false start signal to start growing, and was followed by a deep freeze.  The plants have started suckering though, and we will hopefully be able to train new trees off these suckers.
We have started developing some of the perennial and annual beds this year, and will continue with these projects in 2021 (hopefully).  We are always looking for volunteers, and new idea proposals, so keep in touch with the garden manager...
Return to the High River Community Gardens Home Page.