McLaughlin Meadows Food Forest Updates

This page is going to work kind of like a blog. The newest post will be at the top of the page and the older posts will be lower down.

Saturday May 13th, 2019 - Work Bee

Work Bee planned for May 13th starting at 9:30. On the Agenda...
Prep work for the Food Forest - this will include raking the mulch and evening up the soil beds where the vines and shrubs are going to be planted.
Turning the Compost
- this is pretty straight forward but is a chance to form a team to take charge of the compost for the garden.

The Book Bungalow - We will have the naked book bungalow ready for painting and decorating. It has a flat roof so it could have a nice little green roof to match our shed.
The Shed Exterior
 - Thoughts about how we want to finish our shed exterior. 
Rake the Mulch from Pathways - This is most important in the raised bed area as at least one of our gardeners is having a very tough time rolling her walker over the rough mulch. 
Saturday May 6th, 2016 - The Plant Purchase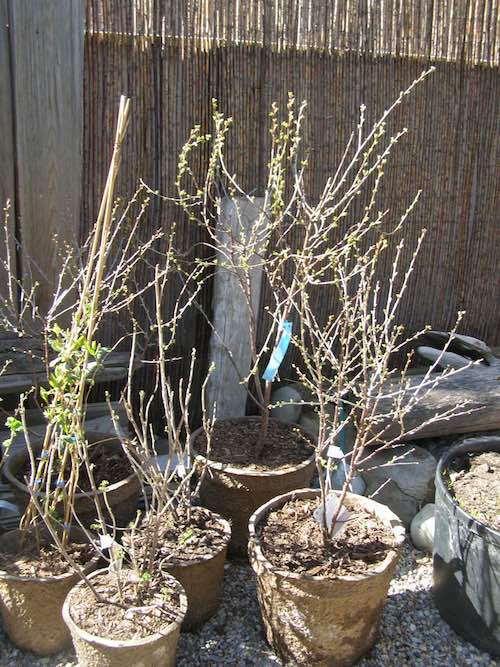 Here are some of our Planys - One Romeo Cherry Tree, Two Carmine Cherry Shrubs and some Honeysuckle Vines
Our Garden Manager got on the phone, found our plants and then went and picked them up. Wow.
They are all in pots of various sizes. This gives us time to prepare the ground for planting.
In the meantime Peter is caring for most of the plants at his house. He even has a water barrel full of warm rain water to baby our babies along.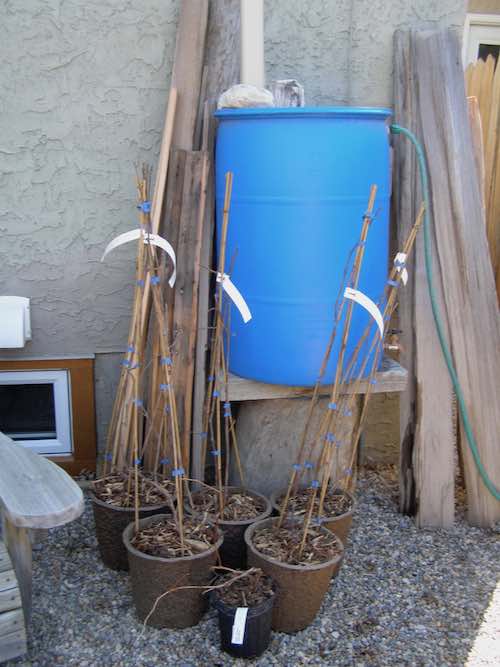 A Rain Barrel Full of Sun Warmed Water to Baby our Plant Babies Along
Wednesday May 3rd, 2016 - Planning Meeting

Peter, Volkmar, Daniel, Colette and Leslie met at the library to work out the plan for getting the plant material.
The biggest change made to the plan was taking the espalier apples out. Volkmar suggested the management required would be more than we could do well and that the structure needed to support the apples was considerable.
The other changes included moving the currants to the shady area near the garden entrance, taking the rhubarb out of our main tree area with a plan to integrate the rhubarb among the vines along the fence .
In the tree area the plan is for 1 combo pear, 2 dwarf apples, 1 cherry tree and 2 cherry shrubs.
The fence area will be grape and honeysuckle vines.

Saturday April 29th, 2016 - Garden Meeting

We had a great turn out - about 20 people at the garden on Saturday April 29th. Peter Raven will be taking the lead on the actual physical work organization. He collected names of 13 people who plan to help prepare the soil and plant the forest.
Four people agreed to take on tweaking the plan and getting the plants. They will meet on Wednesday to plan that.
---