Issue 002 - Wait List Opens Monday at 12:01 AM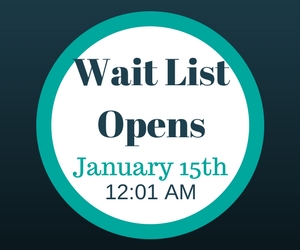 Our wait list opens this Monday morning, January 15th 2018, at a minute after midnight. That will seem like Sunday night of course!

Even if you were on the old wait list you need to register again as we are starting anew.

For sure some plots will be opening for the upcoming season and we are looking forward to welcoming some new gardeners to the gardens.

Please feel free to forward this newsletter to people you know might be interested.

To get on the Wait List you need to visit our website. Just after midnight on January 15th a form to register for the Wait List will go live. That's sort of like Sunday night/early Monday morning.

Our website link is below. You can also read more about our wait list policy there.

Hope to see you in the garden.
What if You Don't Have Email
We've had a few people ask what they can do if they don't have email. If you receive this newsletter you have email but you may know someone who wants a garden but doesn't have email or easy access to a computer. You can help those people out by registering their name under your email address. Just note in the comment section the situation.

Visit Our Website by clicking here.
---